If you are considering a turf makeover, or even if you haven't, you have likely come across the names 'Sir Grange' and 'Sir Walter' before. They are well-known grass varieties and common choices for households across Australia.
But, which one should you choose if you are thinking of a change in lawn? We understand that choosing a turf can be tricky and a little difficult to negotiate, so we thought we'd help you along with a little comparison guide. If you would like some further information regarding either Sir Walter or Sir Grange Turf though, give Rosemount Turf a call on (07) 5448 6398 and we can help further.
Sir Grange Turf
Sir Grange turf, which is also called Sir Grange Zoysia or Sir Grange, was created in Texas at Bladerunner Farms under the name 'Zeon Zoysia'. It was selected from 10,000+ other varieties, developed with golf courses in mind. After considering its characteristics however, it is great for residential use too. It is a Zoysia Matrella and one of the slowest growing turf leaf varieties available.
Advantages
Low maintenance.
Drought, heat and shade resistant as adapts to different climates.
High levels of silicon results in strong leaf blades.
Slow leaf growth rate means low mowing requirements.
High surface strength because of dense vertical growth.
Visually appealing due to dense growth.
Weed and disease resistant.
Naturally resistant to diseases and pests.
Great for barefoot walking as soft/densely mattered.
Sir Walter Turf
Sir Walter turf, specifically called Sir Walter DNA Certified Buffalo Grass, is a turf that was created in Australia and has been one of the most popular options on the Australian market since 1997. Over 70 million metres of grass has been sold… that's over 500,000 homes!
Advantages
Low maintenance.
Wear and tear tolerant, as it recovers quickly following any damage.
Drought tolerant due to lower watering needs.
Weed and insect resistant.
Plush, soft texture.
Fast growing.
Shade tolerant, as its broad leaves result in better photosynthesis.
Will keep your home:

Up to 10 degrees cooler than bare soil.

Up to 20 degrees cooler than concrete.

Up to 40 degrees cooler than artificial turf.
Which one should you choose?
When it comes to choosing between Sir Walter and Sir Grange, both have a range of benefits that should be considered.
Sir Grange is suitable for both residential and commercial use, with low maintenance requirements making it a great choice for those hard-to-reach locations.
Alternatively, Sir Walter is suitable for both children and pets and is a common choice for residential backyards.
We always recommend speaking to a professional to assist when choosing a turf, so speak to our friendly team for a little extra help!
Resources:
Lawn Solutions Australia (Sir Walter Buffalo Grass): https://lawnsolutionsaustralia.com.au/grass-type/sir-walter-buffalo-grass/
Lawn Solutions Australia (Sir Walter DNA Certified) : https://lawnsolutionsaustralia.com.au/turf-supplies/best-lawn-for-me/sir-walter-dna-certified/
Lawn Solutions Australia (Buffalo Grass – 10 Reasons to Choose Sir Walter DNA Certified Buffalo Grass): https://lawnsolutionsaustralia.com.au/turf-supplies/best-lawn-for-me/buffalo-grass-10-reasons-to-choose-sir-walter-dna-certified-buffalo-lawn/
We hear you – lives get busy and mowing your lawn isn't always the first thing on your 'to-do' list after a long week at work.
So, what things should you look for and what kind of lawn should you choose when you want something a little less mowing-reliant? Take a look below for some tips and tricks and call us on (07) 5448 6398 for any further lawn help you may need.
Low-mow lawns
Turf that requires less mowing generally requires less watering and fertilising as well… so it is a little easier to manage all round. These kinds of grass are great choices for hard-to-reach areas, or locations that are tricky to regularly maintain.
Did you know that some Zoysia grasses can grow at ½ the rate of some couch breeds?
Sir Grange for Slow Growth
Sir Grange grass is one of the best options when it comes to a lawn that requires less mowing. It is a Zoysia matrella variety, that is capable of handling high wear once it is established. The reason behind its decreased need for mowing is it has a slow growth pattern, using around only 20% of the nutrients that other varieties use to keep looking good – it uses most of its energy for its large root system. This means less energy that is needed for leaf growth, which equates to slower growth. Sir Grange is also a great option for difficult locations, due to its low maintenance requirements.
Another benefit to Sir Grange is that once it reaches a height of around 15-20cm, it almost ceases growing. This means you don't have to mow it at all once it gets to this height and looks great!
Zoysia grasses by nature do not grow very tall, that's why in tropical climates you often see ornamental zoysia as weed protection in garden beds, or in public spaces that councils wish to mow infrequently.
Laying of low-mow lawn
If you are looking at the 'perfect' time to have low-mow lawn laid, the end of winter is prime when it comes to weather. Around 4-6 weeks before spring starts allows the turf to settle prior to spring/summer, however this does not mean you cannot lay Sir Grange or other slow growing turf at other times of year. Have a chat with your local turf professional and they will be able to help further.
Mowing your lawn less often sounds like a great option to a lot of homeowners and we totally agree. That is why we definitely suggest checking out Sir Grange as your next turf option, especially in areas that are tricky to maintain.
Chat to Rosemount Turf if you need any further help in relation to Sir Grange turf today!
Resources:
https://lawnsolutionsaustralia.com.au/lawn-care/lawn-mowing/mow-less-lawns/
Yes!

If we had to give you a one-word response to our title question, the answer is yes, sustainable gardening can help your lawn. So, if it's something you have considered but not acted on, now is the time to start! We have put together some of the best sustainable gardening tips and tricks that will help with your turf however if you need a little extra assistance, give Rosemount Turf a call on (07) 5448 6398 and we can discuss.
Grass Clippings
Reusing your grass clippings is a great sustainable gardening tip, as there are so many different uses. These include adding to your compost, making liquid fertiliser and making mulch for your garden beds.
Check out our post on using grass clippings here.
Watering
Grey water can be used to water your lawn, using either a bucket or a grey water system. This saves drinking water and is a great way to reuse water, however make sure you don't use any detergents that may harm your turf or garden.
Remember however that different states, territories and councils have varying regulations when it comes to grey water, so always check with the authorities before using grey water on your lawn.
Pesticides and Herbicides
If you follow a lot of these tips, pesticides and herbicides hopefully won't be needed! If a weed or two pops up, just remove by hand.
Always remember, removing weeds early is the key – remove them carefully though, all roots included, otherwise they will be back before you know it.
Mowing
When it comes to mowing, there are few tips to ensure your lawn is at the best:
Mowing your lawn too short encourages weeds.
Lawns that are a little longer are great in combatting blown in seed germination.
Longer lawns also need less water.
Regular lawn mowing keeps your lawn looking thick and lush, which also helps to choke out weeds.
Consider using an electric mower for something a little more eco-friendly, which are also easy to maintain and generally cheaper than petrol models. They cut well too!
Choosing a lawn
A drought tolerant lawn is a great option, as it can be established and continue growing with a lot less water. Consider TifTuf here as it can establish roots in just 7 days!
Soil Improvement
Soil amendments are sometimes needed to keep your soil healthy, but this doesn't have to negatively affect your turf. There are sustainable options around – check out this Lawn Solutions Australia post for a little more information
(https://lawnsolutionsaustralia.com.au/lawn-care/other-lawn-maintenance/soil-renovation/).
The above are just the beginning – sustainable gardening has so many benefits! Give us a call if you'd like to know more.
Resources:
When it comes to the turf in your yard, no one uses your lawn more than your pet. From chasing a ball to using it as a toilet, if you have a furry addition in your family your lawn may be exposed to a little more wear and tear than other homes.
But can your turf and your pet be friends? Definitely! To ensure that the friendship is mutually beneficial though, it is super important to look at turf that is suited to pets. We have therefore put together a few things to look out for when it comes to pet-friendly lawns, as well as a few common lawn issues caused by pets (and how to combat them). Give Rosemount Turf a call on (07) 5448 6398 if you need any more information.
What traits should you look out for in pet-friendly lawn?
There are a few different aspects to consider when looking for a pet-friendly lawn variety. These include
Tolerant to wear and tear.
Low allergenic.
High tolerance for heavy traffic.
Self-repairing.
Dense growth habit.
The most common choice for a pet friendly lawn is a tough, soft leaf buffalo grass, as it is suited perfectly to heavy traffic – pets included!
Common lawn problems with pets
As much as we love our furry friends, they can wreak havoc on your yard. Below are a few common lawn issues caused by pets and some ways to fix them.
Wear and Tear
One of the most common problems pet owners face is lawn wear and tear from their pets, especially dogs. If you are finding that they are tracking through particular areas more than others, try and place an obstacle (e.g. a pot plant) in the way to allow the lawn area to recover. Further aeration may be needed for a little extra help when it comes to any compaction that may have resulted and, always remember that moist and/or shaded areas suffer the most, so pay a little more attention to them.
Tip: If wear and tear is a problem for your turf, consider a proper maintenance plan to combat this issue directly. Speak to a professional if you need some help!
Compaction
Any household that has a dog may have a lawn that suffers from compaction, and it is something that should be addressed on a regular basis. Compaction stops water, oxygen and nutrients from being able to make it to the turf roots, which results in poor lawn health. A way to combat this is aerating your lawn, as it ensures better oxygen and nutrient penetration and will also allow your lawn to root down deeper, making it more drought tolerant and resilient.
Digging
A super common issue when it comes to lawn is digging, which can be a sign that your dog may be bored. If this is the case, a few toys may work to decrease the habit.
Additionally, choosing a lawn that is self-repairing with a dense growth habit is generally best. And, if your lawn is newly laid, try and keep your pooch off the turf for as long as possible. New lawn is super vulnerable to damage, so keeping your pet off the grass can help establish positive growth.
Urine Burns
Urine burns can be a real pain and cause burnt patches in your lawn. If this is the case in your yard, we recommend trying Dog Rocks – these get placed into your dog's water bowl and are designed to stop any further urine burns from appearing. The burnt patches that already exist usually take around 5 weeks or so to fix themselves, so be patient!
Safe lawn practices with pets
If you do have pets, you always want to ensure you read the label of anything and everything you are going to put on your lawn and do some research before its application. A few other tips include:
If you are using fertiliser or pesticides, always keep your pets inside and off the lawn for a while (ie. until the danger has passed).
Again, always check the product safety recommendations on any product you use to ensure that no tragic accidents occur.
Once you have spread fertiliser over your lawn, make sure you extensively water it, so it disappears into the lawn profile.
If you are choosing to use herbicides, always wait until they are both dry and absorbed before letting your pets onto your lawn again.
If your furry friend tends to eat fertiliser granules, it is best to either buy organic or liquid fertiliser as an alternative.
If you would like any further information regarding varying lawn types that are suitable for households with pets, give Rosemount Turf a call on (07) 5448 6398 and we can help.
Resources:
Lawn Solutions Australia: https://lawnsolutionsaustralia.com.au/lawn-care/lawns-pets/pets-and-your-lawn/
If you have ever considered using lawn products on your front or back yard, you will know there are quite a few options available and it can be tricky to decipher what they actually do (or what you actually need – or both).
In saying this, there are two major products that every home should know about: Lawn Rescue and Colour Guard Plus. They are great for Queensland lawns, especially in summer, so keep reading to find out why you should add these to your lawn repertoire. If you have any questions, give Rosemount Turf a call and we can help with all your turf needs, all year round.
Lawn Rescue
If you are finding that your lawn is being hit hard by dry weather, consider the wonders of Lawn Rescue, suitable for new lawns or already established turf, Lawn Rescue offers a dual fertiliser/drought-proofing approach to make your lawn look great.
Both feeding and drought proofing your lawn.
Perfect blend of liquid fertilisers, seaweed extracts and wetting agents.
Suitable for both new and established lawns.
Encourages the development of root systems and growth in new lawns.
Stimulates, supports and protects root growth in established lawns.
Suitable for use all year round.
Has both nutrition and rehydration properties.
A 2L bottle of Lawn Rescue covers around 150m² of lawn, making it a cost-effective option for larger spaces. It is a great option if your lawn is looking tired and is slow-growing and you'll see results before you know it!
Colour Guard Plus
The second option, and one you may have heard of before, is called Colour Guard Plus. Colour Guard Plus has a huge array of benefits including:
· Makes your lawn look green all year round.
· Doesn't coat the leaf of the grass, it is absorbed into the leaf.
· Includes a liquid fertiliser, so feeds your lawn as well as making it look great.
· Easy to use.
· 100% natural ingredients.
· Works on all lawns and in all climates.
· Reduces the amount of both water and fertiliser your grass needs.
One application of Colour Guard Plus can make your lawn look great for up to 3 months, which sounds pretty good to us. And, with a lot areas experiencing drought conditions, this results in dry grass which may need a little extra help in the colour department!
If, after reading this, you still need some assistance, give Rosemount Turf a call on (07) 5448 6398 and we can discuss your turf needs today!
Resources:
On the Sunshine Coast, we are so lucky to have beautiful scenery and a gorgeous coastline. Our beaches are some of the best in the world and the coastal breeze is something that everyone should experience at least once.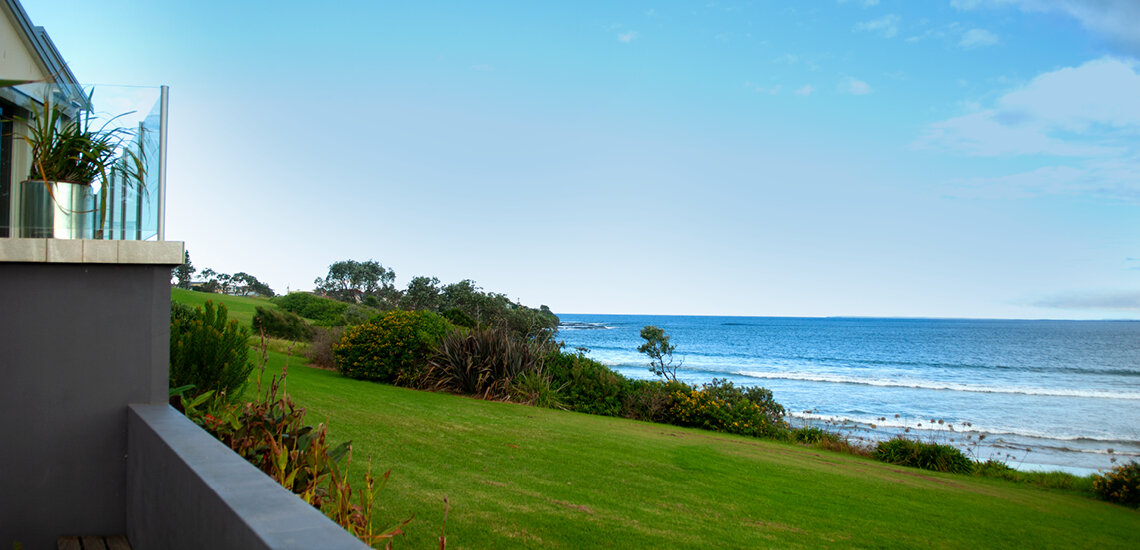 Photo courtesy of Lawn Solutions Australia
But have you ever considered how the salty air affects your lawn? High levels of salt in your turf is quite common in the areas in and around the Sunshine Coast, so we have put together some information regarding how you can combat unhealthy salt levels in your yard.
Why are high salt levels in your lawn not beneficial?
Levels of salt in your turf are not uncommon, however when they get too high, there are a range of issues that can occur:
Nutrients can't be absorbed as well.
Turf cannot retain moisture as well as it should.
If salt spray is actually hitting your turf, this can cause burns to the blades.
If your soil is clay, salt spray can affect the root development of turf.
How can you help prevent salt damage to your lawn?
There are a few things to remember when it comes to salt and your lawn – if you follow the below, you will be well on your way to helping your lawn against salt damage:
Choose a salt tolerant buffalo lawn, such as Sir Walter DNA Certified.
Fresh water! Fresh water helps reduce the salinity in your lawn.
Watering your lawn is the best choice if your lawn has been exposed to strong coastal breezes, or you think that it may be damaged.
When watering, make sure you do so for a couple of hours to draw the sodium out of your turf.
Watering your lawn for long periods of time can wash nutrients away though, so it is always a good idea to follow-up with fertiliser.
For more information, get in contact on (07) 5448 6398 and Rosemount Turf can assist with all your turf needs.
Resources:
Lawn Solutions Australia (How to manage salt levels in your lawn): https://lawnsolutionsaustralia.com.au/lawn-care/salt-in-your-lawn/
Australian weather conditions can be harsh all year round, which can affect your turf and how it performs across differing seasons.
Photo courtesy of Lawn Solutions Australia
If you are in need of a high performing Couch grass in our beautiful country though, look no further than Nullarbor Couch.
What is Nullarbor Couch Grass?
Nullarbor Couch is a common choice in Australia, as it performs very well in our weather conditions. It has been researched, evaluated and trialled for over two decades to provide an enduring performance in full sun, meaning Nullarbor Couch requires 7-8 hours of direct sunlight per day.
Nullarbor Couch Turf Qualities
o Best suited for areas that receive between 7-8 hours of direct sunlight a day
o Great appearance due to luscious green colour
o Quick growth
Why choose Nullarbor Couch?
There are a huge range of reasons as to why Nullarbor Couch turf should definitely be on your 2020 turf list, including:
o Warranty: The only Couch grass that is backed by a 10-year warranty.
o Value for money: Provides real value for money for homeowners.
o Mowing: Tolerance when it comes to low mowing.
o Feel: Nice and soft to walk on.
o Traffic: Can tolerate high levels of traffic and is hard wearing.
o Colour: Beautiful dark green colour with a fine leaf blade.
o Growth: Fast growing with a strong horizontal leaf growth habit, providing dense turf.
o Pesticides: Good tolerance to broadleaf herbicides for weed control.
o Wear and tear: Rapid recovery from wear and other stresses.
It also has low dormancy, meaning it has an early start to growth after winter, and is great for the environment too.
What maintenance does Nullarbor Couch Grass require?
Nullarbor Couch Turf requires fertilising 2-3 times a year and mowing every 5-7 days during summer.
Who should have Nullarbor Couch Turf?
Almost anyone! Nullarbor Couch is great for homes, commercial spaces and sports fields, due to its dense nature, great colour and eco-friendly status, as well as being hard wearing yet soft to walk on.
Want to know more?
If you would like any further information regarding Nullarbor Couch, give Rosemount Turf a call on (07) 5448 6398 and we would be happy to assist.
Resources:
Lawn Solutions Australia (Nullabor Couch Grass) : https://lawnsolutionsaustralia.com.au/grass-type/nullarbor-couch-grass/
If you are getting a little worried about keeping your lawn looking good consistently, we have put together a few tips and tricks to mowing your lawn during the festive season.
The guide to lawn cutting
The following are important aspects to consider when mowing your lawn this Christmas.
Mowing Direction
Mowing in different directions keeps lawn cutting exciting, as well as encouraging healthy lawn growth by persuading individual blades to grow straight. Blades that grow straight provide more room for new blades to grow, resulting in a thicker lawn.
Consistency
Mowing your lawn regularly allows for the sun to get amongst your lawn leaf more, as well as promoting lateral growth.
Sneaky tip thanks to Lawn Solutions Australia: Never cut more than 1/3 of the leaf blade of your lawn at any one time. If your lawn has become a little out of control and needs a more severe cut, take it down over a number of mows. This will leave plenty of green on the leaf allowing the grass to continue to photosynthesise.
Mower Blades
To ensure your lawn mower is cutting at 100%, always ensure the blades are sharp and you keep your mower maintenance current (whether by yourself or through a service centre).
Wet Lawn
Wet lawn is for fertilising… not for mowing! Make sure your lawn is dry, otherwise damage can occur to the leaf blades which causes your lawn to look 'chopped'.
Level Lawn
If you find that your lawn is a little uneven, it may be worthwhile considering top dressing it to make it a little more level (which helps with mowing!).
Leaf Blade Length
To help with the health of your lawn, leave the leaf blade a little longer in length in the shade, as well as when water is scarce. This decreases the stress on your lawn, as well as offering a great surface to encourage sunlight absorption when possible. Additionally, the soil temperature will decrease, which results in a reduction in evaporation and allows moisture to be retained by the roots of your grass.
The right mower
Ensuring you have the appropriate mower for your lawn is very important. There are rotary, cylinder and ride-on mowers, and different types within each. We always recommend speaking to a professional about the best lawn mower for your needs – they will be able to assist in choosing the correct option quickly and efficiently.
Wear safety equipment
Finally, to ensure you remain safe while mowing, wearing personal protective equipment (or PPE) helps minimise the chances of an injury occurring. From safety boots to thick pants to a cool, long sleeve t-shirt, as well as safety glasses/face shield, gloves and ear defenders. These all help in more ways than one!
Guideline for ideal mowing heights
(Rule of thumb: shorter for summer, longer for winter)
Green couch: 15 to 30mm
Buffalo grass (Sir Walter): 30 to 50mm
Kikuyu: 30 to 50mm
Japanese lawn grass: 15 to 30mm
Zoysia matrella (Sir Grange): 10 to 20mm
Queensland blue couch: 15 to 30mm
Broadleaf carpet grass: 30 to 50mm
Hybrid Bermuda (TifTuf): 10 to 30mm
Fescue: 30 to 50mm
*This guide is courtesy of Lawn Solutions Australia
Resources:
Lawn Solutions Australia (Cut Grass Properly): https://lawnsolutionsaustralia.com.au/lawn-care/lawn-mowing/cut-grass-properly/
With summer well and truly here, different areas of Queensland are suffering from high temperatures, drought conditions and/or water restrictions to ensure there is enough water to go around.
But how does this affect your lawn? Most grass varieties are relatively hardy when it comes to drought or low watering, meaning they will go into a dormant state until they receive adequate amounts of water again, but how much water does your turf really need? Let's take a look at what happens to your turf when the temperatures rise, and a little more about watering.
What does it mean when grass goes 'dormant'?
Dormancy in grass occurs if temperatures soar to high levels (especially in summer) and they need to retain moisture. When grass goes dormant, it 'shuts down' growth of its tissue to ensure preservation of moisture loss. It usually loses colour and becomes brown, as well as being dry and showing very little signs of growth. This will last until irrigation or the next rain.
How do you know if your grass is dormant?
If you are wondering if you grass is dormant or dead, take a look at the crown at the base of the leaves. If this is white/off white, this usually means your grass is alive but in a dormant state. If the crown at the base is brown and brittle, your lawn is likely dead.
What do you do for your lawn when it's hot?
Now you know about lawn dormancy, what next? Consider a few of these tips to help your lawn when the temperatures are high and/or you are in drought affected areas:
1. Keep off your lawn! This may be impractical however your lawn is suffering already without the added stress of foot traffic. Where possible, stay off the grass.
2. When you water your lawn, water for longer but less often. This encourages the roots of the grass to go deeper into the earth to find moisture, ensuring your lawn stays hydrated to longer.
3. Remove dead material, to allow the living components to absorb any and all available moisture.
4. Aerate your lawn, to increase the ability of water to get through to the roots. This will ensure that your lawn is in the best position possible to retain moisture whenever it receives it.
So, how much water does turf really need?
As with many other things, water is a crucial part to the survival of your lawn. It moves nutrients, maintains cell structure and allows for photosynthesis to occur to create food.
Generally, a lot of turf varieties receive satisfactory water through either rainfall or moisture retention in the soil. However, this can become difficult when drought conditions are present.
If the roots cannot ensure the level of moisture needed to go to the leaves, they close their stomata (cells that make up the pores of the leaf) which results in limited growth as the leaves are no longer able to take in carbon dioxide. So, ensuring your lawn receives enough water – where possible – is super important to allow for lawn growth!
What about irrigation?
It is important to note that it is ok to irrigate your lawn if there isn't enough rainfall for your lawns' needs however always ensure that you follow any water restrictions in your area.
If you would like any more information regarding turf on the Sunshine Coast, give Rosemount Turf a call on (07) 5448 6398 and we would be more than happy to assist with any queries you may have.
Resources:
Lawn Solutions Australia (How to beat the heat): https://lawnsolutionsaustralia.com.au/lawn-care/tips-help-beat-heat/
A little overwhelmed by all the turf varieties on offer, and not sure which one is best for you?
We know how it can be – there are so many choices, and you want to make sure you choose the best one for your back yard. But, with all the lawn options available, what should you choose? To make things a little easier for you, we have put together a comparison between two common lawn varieties for your home – TifTuf and Sir Walter.
If you would like to know more about TifTuf and Sir Walter, give Rosemount Turf a call on (07) 5448 6398and we can discuss your turf needs today!
Sir Walter DNA Certified Buffalo Grass
Sir Walter DNA Certified Buffalo Grass is an Australian-created turf that has been one of the most popular turf options on the Australian market since 1997. It is suitable for both children and pet and is a common choice for residential backyards.
TifTuf Turf
TifTuf, otherwise known as TifTuf Bermuda or TifTuf Hybrid Bermuda, is a turf variety created in the USA from over 25 years of testing and development. It was chosen from over 30,000 other options and is another common choice for lawns.
Benefits of each turf variety
TifTuf
· Genetic purity
· Densely grows, making it wear tolerant
· Requires less water than many other grass varieties, making it drought tolerant
· Retains colour all year round
· Weed, pest and disease tolerant
· Better simulation of photosynthesis meaning it needs 50% less sunlight than other Couch grasses.
· Sustainable and environmentally friendly, due to its lower watering requirements
· Used for sports fields and golf courses
Sir Walter
· Low maintenance
· Plush, soft texture
· Grows fast as well as recovers fast after damage, making it wear and tear tolerant
· Drought tolerant due to lower watering needs
· Weed and insect resistant.
· Broad leaves means it completes better photosynthesis, making it shade tolerant
TifTuf vs Sir Walter – which is best?
Both TifTuf and Sir Walter offer a huge range of benefits, meaning they are beneficial to many backyards. Ultimately, it depends on each individual household and their personal requirements. We highly recommend speaking to an industry professional as to the best option to suit your needs, as you only want the best for you!
Resources
Lawn Solutions Australia (TifTuf Hybrid Bermuda Grass): https://lawnsolutionsaustralia.com.au/about-lawn-solutions-australia/news-from-lsa/tiftuf-hybrid-bermuda-grass-forged-best-turf-grass-scientists/
Lawn Solutions Australia (TifTuf): https://lawnsolutionsaustralia.com.au/lawn-care/grass-greener-side-tiftuf/
Lawn Solutions Australia (Sir Walter Buffalo Grass): https://lawnsolutionsaustralia.com.au/grass-type/sir-walter-buffalo-grass/
Lawn Solutions Australia (Sir Walter DNA Certified) : https://lawnsolutionsaustralia.com.au/turf-supplies/best-lawn-for-me/sir-walter-dna-certified/